Description
| 4 TO 6 WEEKS of Delivery |
Dyson  HP 07 Purifier Hot+Cool purifying fan heater (White/Silver)
Senses and reports, automatically

Integrated sensors constantly analyze your air, while our unique algorithm cross-checks data every second. It diagnoses pollutants at a molecular level, displaying live results on the LCD.

Captures gases and ultrafine particles

The HEPA filter captures 99.97% of particles 0.3 microns in size. A layer of activated carbon also removes odors and gases including VOCs.

Purifies the whole room

Only Dyson purifiers have Air Multiplier™ technology. It generates the circulation power to draw even distant pollutants into the machine, projecting purified air throughout the room.¹

Fully sealed to HEPA H13

In our latest purifiers, it's not just the filter that meets HEPA H13 standard, it's the whole machine.² So what goes inside, stays inside.
Heats when needed

With long-range projection, it's quick to heat the whole room evenly.¹

Cools you when needed

A powerful stream of purified airflow can cool you down when desired.

Backward airflow mode

Diverts airflow through the back of the machine. To purify, without cooling you.³

App control

Control and monitor your air quality from anywhere using the Dyson Link app.⁴ Heating cannot be controlled via the Dyson Link app due to safety standard UL 1278, as required by the US government. Please use remote to control heating.

Voice control

Control it hands-free with compatible voice services. Works with Amazon Alexa, Apple Siri, and Google Home.⁴

Remote

Curved and magnetized to store neatly on top of the machine.

Night mode

For lighter sleepers. Monitors and purifies using the quietest settings, along with a dimmed display.

Easy filter care

The filter is quick and easy to change. With automatic filter-life notifications on the LCD or Dyson Link app.

Oscillates up to 350 ̊

Adjustable oscillation projects purified air around the whole room.
Specifications
Weight

12 lb

Oscillation/Angle

350 degrees

Cord length

6 ft

Number of speed settings

10

HEPA filter

HEPA H13
Color:White/Silver  |  Style Name:HP07
The Dyson Pure Hot + Cool is the only purifying heater + fan to clean a whole room properly.
To simultaneously purify and heat a whole room properly, the Dyson Pure Hot+CoolTM purifying heater + fan goes beyond standard tests by automatically sensing pollution, capturing ultrafine pollutants, and projecting purified and heater air using Air MultiplierTM technology. It is the only purifying heater + fan designed and tested to do this.1
Features:
MULTI-FUNCTIONALITY: Space Heater. HEPA Air Purifier. And Fan to help disperse the purified air throughout an area. In one. Backward airflow mode purifies without cooling or heating you.
SENSES: Automatically senses air pollution events, initiates purification, reports air quality levels on LCD display, including ultrafine particles like dust (PM 2.5), allergens like pollen and mold (PM10), household odors and volatile organic compounds (VOCs) by-products from car exhaust like Nitrogen Dioxide (NO2).
CAPTURES: The sealed HEPA filter captures 99.97% of allergens as small as 0.3 microns making this an ideal air purifier for allergies, pets, dust, smoke, pollen and mold spores. Activated carbon filter removes pollutants and household odors. 60x more HEPA media and 3x as much activated carbon than previous model.
PROJECTS: Projects purified air throughout the whole room. Air Multiplier technology delivers over 77 gallons per second of smooth, yet powerful airflow. Up to 350anddeg; of oscillation directs airflow where you need it to help make the air cleaner.
HEATS: The Dyson Pure Hot + Cool is an electric heater that can be used for long-range personal heating in Jet Focus mode or fast, even room heating in diffused mode. Heats with thermostatic control – monitoring the temperature in the room and adjusting in the winter to bring heat the room to the right temperature
CONNECTED: Wi-Fi connected home air purifier and ceramic heater. See real time reports, remotely control your machine and create schedules around your day using the Dyson Link app.
ALEXA ENABLED: Voice control using Alexa to turn on/off, turn on auto-mode, and update you on the indoor air quality.
ASTHMA AND ALLERGY FRIENDLY: Certified asthma and allergy friendly by the Asthma and Allergy Foundation of America. 90% of allergy sufferers surveyed would recommend a Dyson Purifier.3
SLEEP: Over 70% of people surveyed felt better rested from using a Dyson Purifier.4
NIGHT-TIME MODE: Night-time mode monitors and purifies using quiet settings, with a dimmed display.
LOW MAINTENANCE FILTERS: App notifies when it's time to change the easily changeable filters. The filter life is 1 year if used 12 hours a day on Auto mode.
QUIET OPERATING: Awarded QuietMark certification for noise reduction among purifiers.
SPEED SETTINGS: 1-10
Warranty
After registering your free 2 year warranty, your Dyson machine will be covered for parts and labor (excluding filters) for 2 years from the date of purchase, subject to the terms of the warranty. If you have any questions about your Dyson machine, call the Dyson Helpline with your serial number and details of where and when you bought the machine. Most questions can be solved over the phone by one of our trained Dyson Helpline staff.
1Tested for air projection (DTM801), purification coverage in a 2860ft3 room (TM-003711), and heating performance in a 1236ft3 room (DTM961).
3Based on a 2017 Dyson survey of self-reported allergy sufferers after use.
4Based on a 2017 Dyson Sleep Study Survey after use.
Multi Functionality; HEPA Air Purifier. Space Heater, + Fan; In one; Backward airflow mode purifies without cooling or heating you

Senses: Automatically senses air pollution events, initiates purification, & reports air quality levels on LCD display, including ultrafine particles (PM 2. 5), allergens (PM10), volatile organic compounds (VOCs) & Nitrogen Dioxide (NO2)

Captures: The sealed HEPA filter captures 99. 97 percent of allergens as small as 0. 3 microns makes this an ideal air purifier for allergies, pets, dust, smoke, pollen and mold spores

Projects: Projects purified air throughout the whole room; Air Multiplier technology delivers over 77 gallons per second of smooth, yet powerful airflow; Upto 350 degree of oscillation directs airflow where you need it to help make the air cleaner

Heats: The HP04 Purifying Space Heater can be used for long range personal heating or fast, even room heating; Heats with thermostatic control in the winter to bring the room upto the right temperature

Connected: WiFi Connected home air purifier and heater; See real time reports, remotely control your machine and create schedules around your day using the Dyson Link app

Alexa Enabled: Voice control using Alexa to turn on/off, turn on auto mode, and update you on the indoor air quality. Cord length – 1.8m . Base diameter – 248mm
Other product listings for non authorized 3rd party sellers are not covered by official Dyson; Voltage :120 Volt

Warning: Unauthorized replacement filters are not tested or verified to perform at HEPA standard; Only authentic Dyson filters are recommended to ensure a sealed system and proper functioning of the machine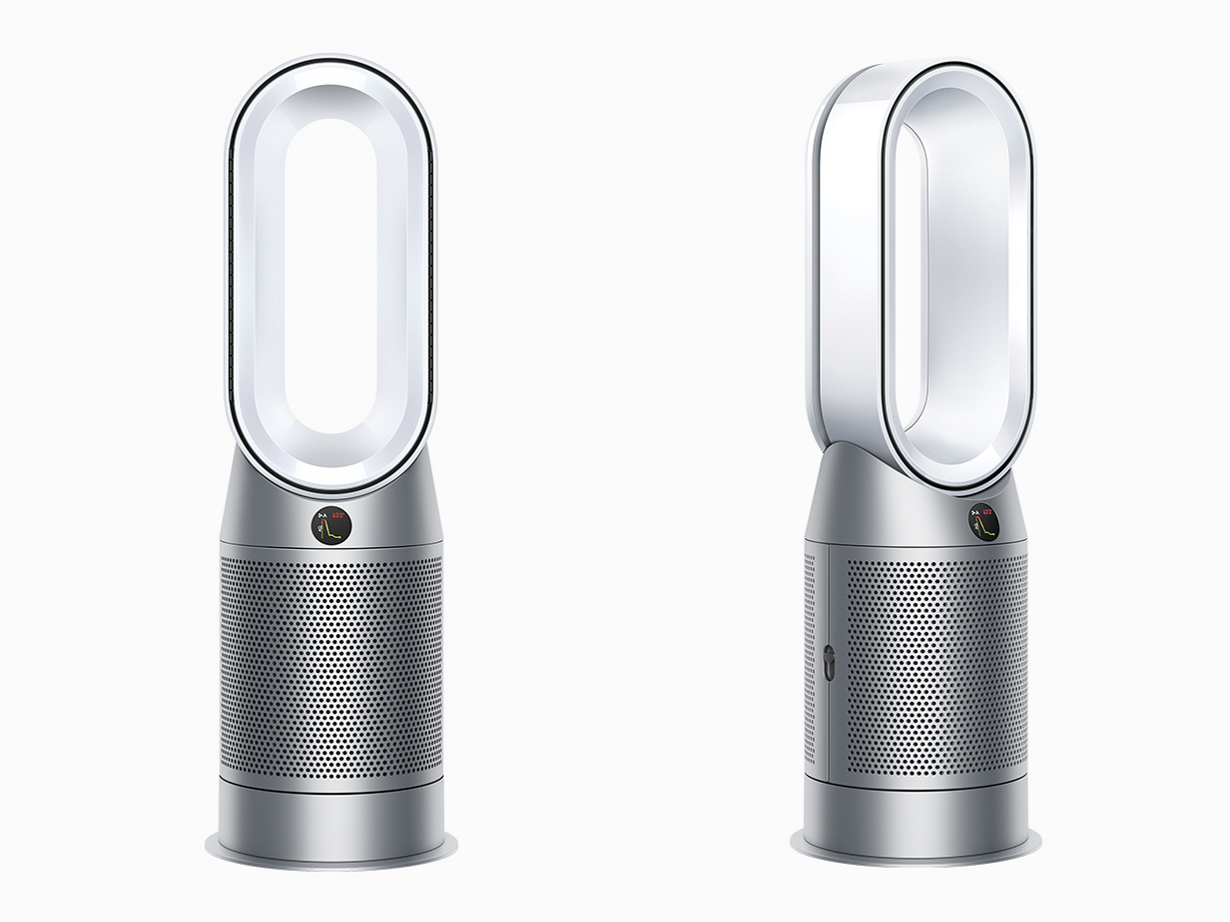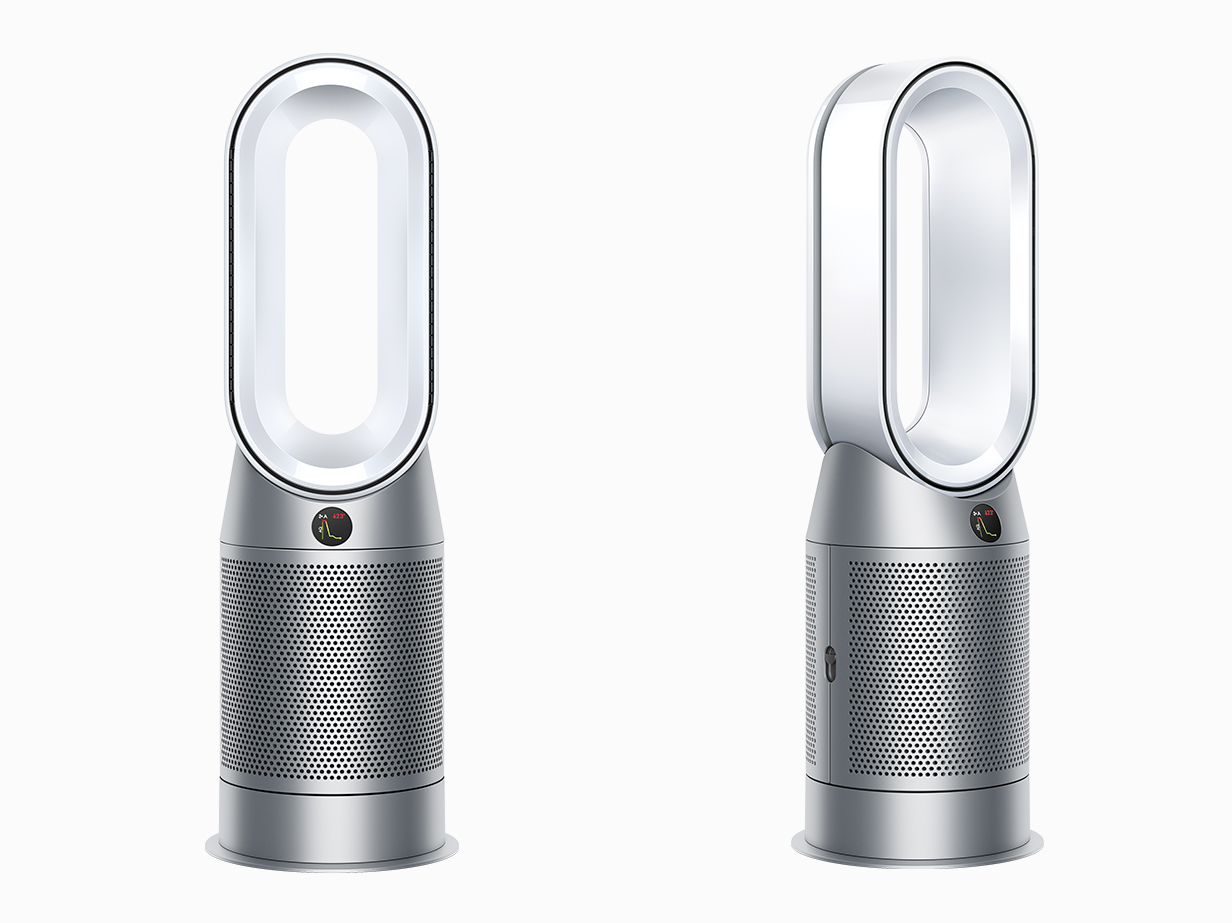 Height

30 in

Length

5.12 in

Width

9.8 in